Hit the trails with Canmore and Area Mountain Bike Association
By By Kate Barker with Justin Deoliveira, Vice-President of CAMBA
Living in the Bow Valley means embracing the mountain lifestyle. In this series, we uncover the recreational clubs, associations, and organizations that encourage residents to get outside and get involved!
The Canmore and Area Mountain Bike Association (CAMBA) is a non-profit society that advocates for a vibrant and exciting trail system for users of all ages and abilities. Formed in 2016 from a need for an organized and unified voice to advocate on behalf on mountain bikers and other trail users, the association began with excellent support from local builders and bike shops. Now, CAMBA has over 800 members and is continuing to grow.
Mountain biking has gained popularity for its fast-paced fun and connection to the natural world. The Bow Valley offers the chance to mountain bike in a simply breathtaking natural environment, with world-class views and great facilities. "The trails within the Bow Valley are accessible and connected," says Justin Deoliveira, Vice-President of CAMBA, which means local residents are spoiled by having literally hundreds of kilometres of singletrack accessible from their front doors without having to drive to a trailhead."
These beautiful and accessible trails aren't exclusive for mountain bikers. Deoliveira says, "An important aspect to be aware of when riding the trails in Canmore and the Bow Valley is that as mountain bikers, we're constantly sharing those trails with wildlife and other user groups, such as trail runners, dog walkers, hikers and horse riders. Around any blind corner is the possibility of encountering wildlife or another person coming up the trail."
Deoliveira stresses the importance of riding in control, and always being aware of the surroundings. "We love speed but it's important to ride safely and always be in control. Avoid using earbuds and make as much noise as you can to let our fellow trail users, both furry and human, know that you're there." As with any outdoor activity in the mountains, it's important to carry bear spray and know how to use it!
The CAMBA board and its members do a lot within the community. Their focus on advocacy includes working with land managers to establish and maintain access to trails, both old and new. "The Canmore and area trail network is spread across multiple provincial, municipal and private land managers. Access to each area is a privilege," says Deoliveira.
"The Bow Valley offers the chance to mountain bike in a simply breathtaking natural environment, with world-class views and great facilities." -Justin Deoliveira
CAMBA's advocacy work includes constant communication to address issues that may arise and find solutions that keep the trails sustainable and vibrant for bikers and all trail users. "We encourage riders to always be respectful of the lands we have been allowed to recreate on, along with appreciation to the owners of those lands."
CAMBA is also heavily involved in trail building and maintenance. With several ongoing projects and more plans in the works, this is what the organization is all about! It's not as simple as asking for permission to build or maintain a trail, however. The Bow Valley is a special place due to its ecological richness and amazing wildlife population. "Anyone that works with land managers in this region must understand that a focus on conservation is of utmost importance," says Deoliveira. "There is a constant balancing act between recreation and conservation behind the scenes that is crucial to ensuring the trails we build and maintain are sustainable."
The members also do social events and fundraising. "While the hard work of trail building and advocacy is ultimately the focus of what we do, getting people excited and raising stoke is also crucial," says Deoliveira, "Social events are an important way for us to raise money and come together." CAMBA is currently running Pedal for Pints, a fundraising initiative that encourages people to get out in a social way, but also raise money to give back to the trails everyone loves. "The initiative is a great way for riders to help fundraise and win some amazing prizes, all by just pedaling your bike. Pedal for Pints is also open to all users including trail runners and walkers, and there is even an option for trail users with accessibility challenges."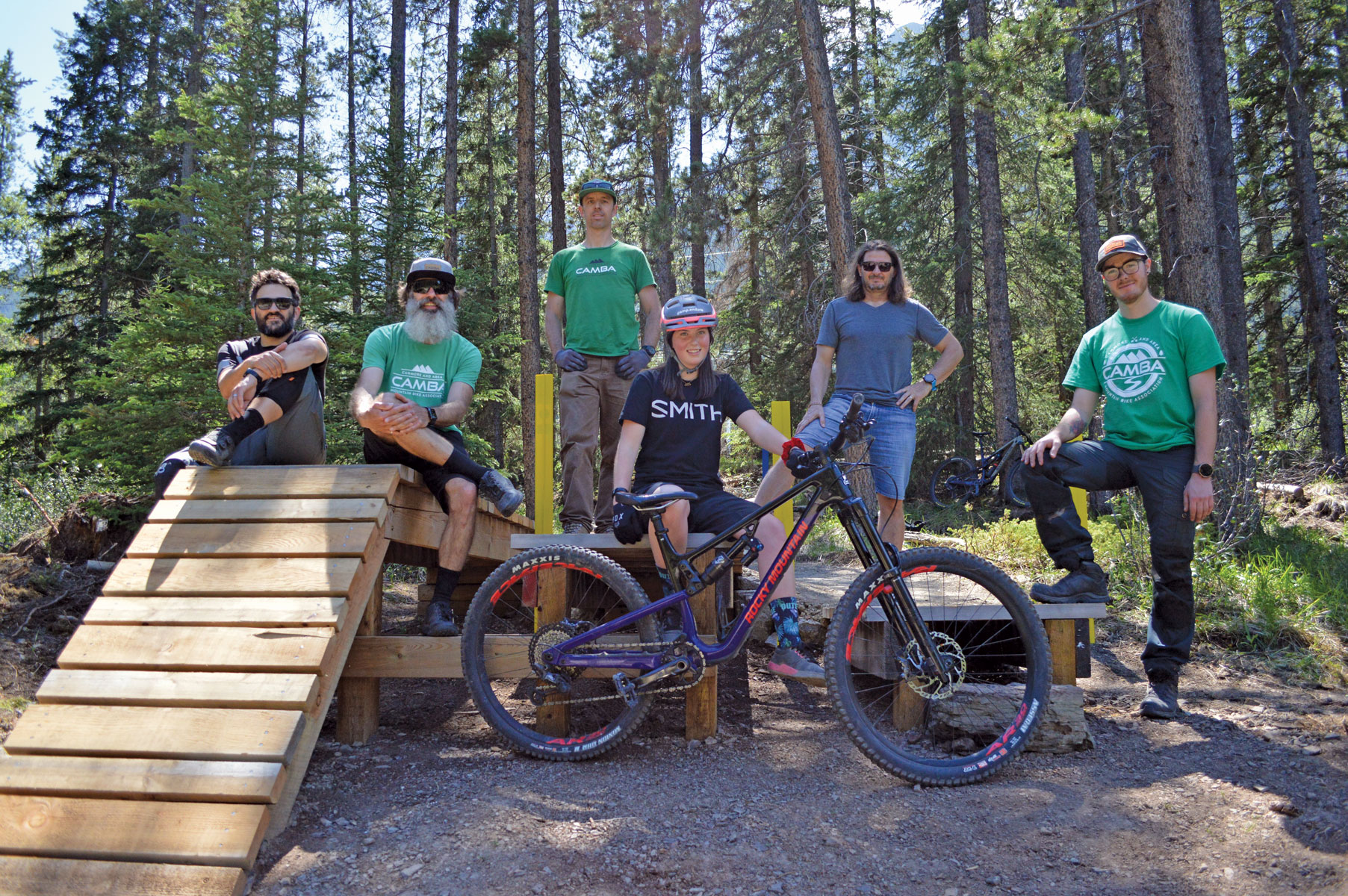 CAMBA has always partnered with some amazing businesses, including the local bike shops, great restaurants, coffee shops and more. These core businesses have allowed CAMBA to offer its members local discounts and connect riders with businesses committed to supporting the trails. They also have an official Trail Partnership program that allows businesses to add financial support for trail maintenance. The initiative has seen resounding success with major multinational brands including SMITH Optics and Buff being early adopters. Local landowners and businesses are also involved, including Three Sisters Mountain Village, Exshaw Mountain Gateway, The Bike Shop in Calgary, Back It Sports & Wellness and the Iron Goat Pub & Grill.
So how do you get involved? "For those who like getting their hands dirty, there is no more direct way to do so than by volunteering at one of our many trail nights," says Deoliveira. "These are fun and fulfilling evenings that give riders an appreciation for the trails." The board of directors is also looking for help. CAMBA has a number of committees that support the organization, including advocacy, fundraising, social events and IT support.
For those who don't have the luxury of time to volunteer, a CAMBA membership is a great way to support the trails. "Membership numbers are a crucial part of our advocacy efforts when we discuss access and potential projects with land managers. It's affordable, available online and comes with great benefits."
Looking to get involved or become a member? Find out more at camba.ca. Happy trails!