Living the Dream: Access the Theatre with the Pine Tree Players
By Kate Barker with Jen Tweddell, past president of Pine Tree Players. Photos by Burnett Photography
Living in the Bow Valley means embracing the mountain lifestyle. In this series, we uncover the recreational clubs, associations and organizations that encourage residents to get outside and get involved!
The Pine Tree Players began in 1978, when a group of Canmoreites recognized the need for performing arts in the little mountain town. They performed their first play, The Bad Children, at Centennial Park for Canada Day. Since that time, this community theatre group has been creating and performing plays for the Bow Valley and providing an accessible outlet for theatre in the community. While the organization has evolved over the years, it has stayed with its core principle of making theatre accessible for the people, both in terms of the audience and participation.
"The theatre scene in the Bow Valley is interesting," says Jen Tweddell, past president of Pine Tree Players and producer of many of their shows, "We have small communities here but the depth of the talent is quite remarkable." Many people who were attracted to living in the Bow Valley ended up working at the Banff Centre for Arts and Creativity, or others who have a theatre background but do other things, have since retired and are now devoting their time to community theatre.
The Pine Tree Players manage the Miner's Union Hall on behalf of the Town of Canmore, which allows them to rehearse and perform indoors. "Having access to the Miner's Union Hall has been amazing for us and it's a huge enabler of what we do," says Tweddell. "In professional theatre, companies have access to the theatre a week or two before the show goes live, and it takes dozens of people to make that happen. Volunteers have limited time, but it still takes the same number of hours to get it ready. We move in 4-6 weeks ahead of the performance to prepare."
The hall is also available to the community. People can rent the hall for special events, and non-profits can also use the space at an affordable rate. Furthering their committment to community, the Pine Tree Players are committed to theatre education, beyond their own performances. They offer several scholarships to both high schools in Canmore for students who show an affinity for theatre arts and they also financially support kids going to Artstrek, a summer theatre school for teens run by Theatre Alberta.
"We have small communities here but the depth of the talent is quite remarkable." -Jen Tweddell
In addition to students, the Pine Tree Players provide financial assistance for Bow Valley residents looking to further their education in the theatrical arts. This funding is allocated through an application process, found online. Pine Tree Players look at why the person wants to take the course, what benefit they'll bring back to the Bow Valley, and financial need. They can fund up to 85% of the educational program. "We're pretty open to what the education looks like," says Tweddell, explaining they'll consider online learning as well as workshops both in town and in other communities. "We leave it up to the community to tell us where they want to build their skills and where their interest lies."
In addition to providing funding, Pine Tree Players host regular workshops here in town that are open to anyone who wants to attend. "We also offer theatre workshops in partnership with Theatre Alberta," says Tweddell, mentioning the success of the Hometown Series, where theatre professionals visit communities to provide workshops. "We do those on a pay-what-you-can model. If you want to learn about set design, or you want to learn about stage management, acting or directing, then we can have professionals come in to share their expertise."
The Pine Tree Players also have up-and-coming performances, including Barefoot in the Park, performing at the Canmore Miner's Union Hall, November 17-27. Loose Knit, directed by local Lauren Hawkeye, performs in April, and the one act play festival is in March. The festival is a great opportunity for first time directors and actors to dip their toe into the theatre scene. "The one act play festival is a great platform for different stories and voices," says Tweddell, "The plays range from 15-40 minutes and there's something for everyone on any given evening."
So who can join the Pine Tree Players? Everyone! "We're looking for all the people! In theatre, you need all kinds of people. If someone doesn't think of themselves as a creative, there are lots of spaces for those people too." Stage management roles require a lot of organization, while producers and social media management require specific skillsets as well. Accountants, set designers, set builders, costume designers, ticket takers, and so many more roles are also required to produce a performance. "Literally whatever your talent, you can get involved. There is no skill set that we can't put to good use!"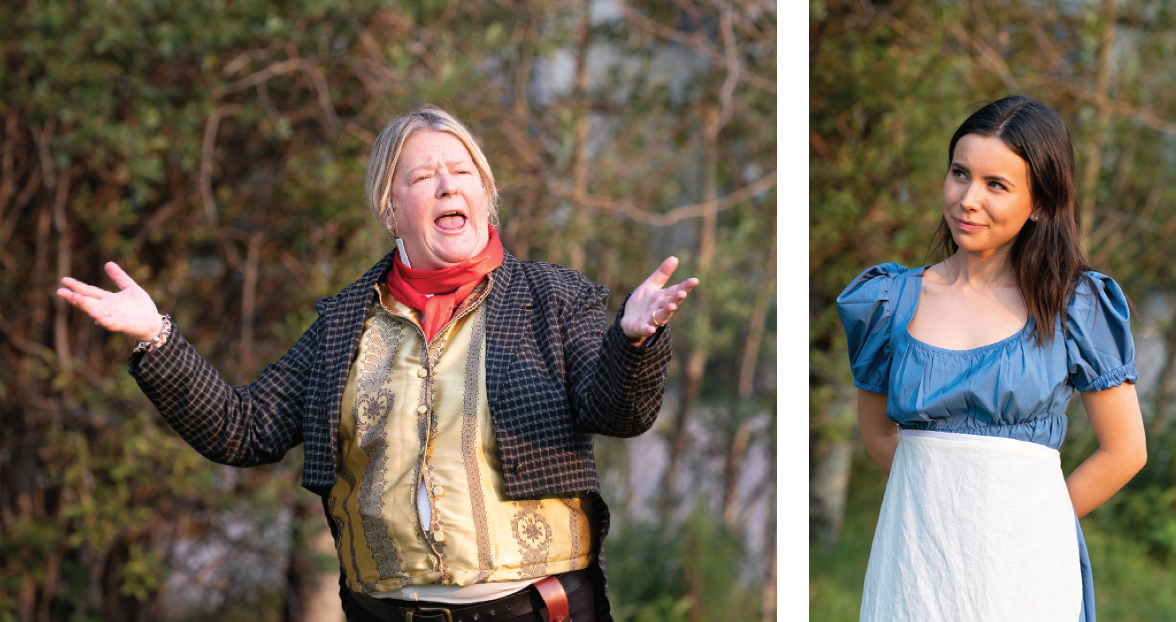 So how do you get involved? Stop by and enjoy one of the upcoming productions or sign up for one of the many roles for hands-on experience. Connect with Pine Tree Players on Facebook and Instagram or visit their website at pinetreeplayers.com.